The best technology for Sub-Intensive and Intensive Neonatal therapies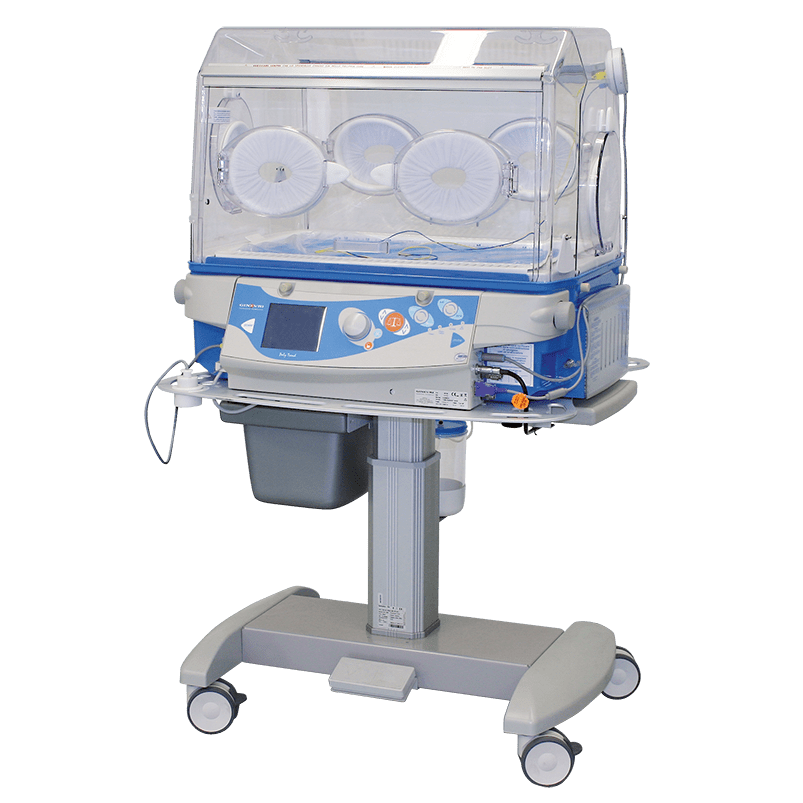 In the last 60 years GINEVRI has designed and manufactured neonatal incubators which have always been characterized by their original technical solutions and up-to-date performances. Reliability and user friendliness have always been typical of the philosophy that has guided GINEVRI in the design of its line of incubators OGB Polytrend:
– UNBREAKABILITY AND LIGHTNESS of the hood, the base and the other main components, completely made of one-piece injection moulded Polycarbonate;
– HIGH REDUCTION OF INFECTIONS RISK, with the possibility of easy and complete disassembly of the incubator for cleaning and disinfection;
– SPACIOUS HOOD, with two main doors and six port holes as a standard;
– ELECTRONIC SERVO-CONTROL of AIR and SKIN TEMPERATURE, and, on request, of RELATIVE HUMIDITY and OXYGEN CONCENTRATION.
– WIDE RANGE OF ACCESSORIES, including BILLA electronic integrated baby scale, Heart rate and Oxygen saturation monitoring in the blood, Remote monitor, Double hood, Adjustable Trolley, IV Pole, Shelf, Drawer, etc.
In OGB Polytrend infant incubators, besides the longstanding GINEVRI traditions of reliability and performances, the latest technology is now at the service of caregivers:
– LCD screen
– Trends display
– Advanced full modularity
– Functions update via software
– Peripheric skin temperature monitoring
LCD SCREEN FOR GRAPHIC DISPLAY: All settings and measured values are shown on the LCD graphic display placed at the centre of the control panel. The practical encoder on the control panel allows setting all the parameters and surfing the various displays:
– the numerical values display;
– the menu display;
– the settings display;
– the time setting display;
– all the TREND displays: air temperature, skin temperature, peripheric skin temperature, relative humidity, oxygen concentration, Weight, Heart rate and SpO2, etc.
The LCD display and the control by means of the encoder give the maximum MODULARITY to the incubator, with the possibility of enhancing its functions just through a software updating.
Please log in or register in order to:
- access the technical data sheet
- download the catalogue
- get a quote
- obtain a product sample